Edubridge 2023 Summer of Coding
Are you ready for an unforgettable coding adventure this summer? Join Edubridge's highly anticipated Summer of Code training program and embark on a fun-filled, practical coding experince.
Register Now
Teaching coding helps to set up your child
for the job of the future opportunities
Every body in this country should learn how to program a computer....because it teaches you how to think
Our program is designed to provide kids aged 4 and above with hands-on experience in coding, AI, robotics, UI/UX design, visual programming, and web design. Don't miss out on this incredible opportunity to enhance problem-solving skills and ignite creative thinking abilities that will benefit your child and make them stand out when they return to school.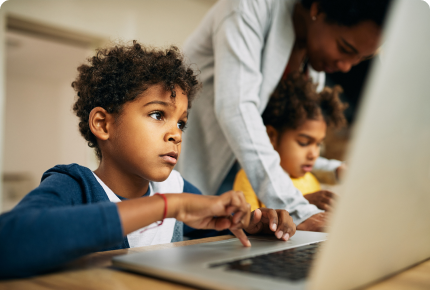 We adopt individualize learning approach, We ensure training provision 1-on-1 for each learner
Lessons are divided using world class curriculium adapted to local environment that learners can easily relate to
We start with the end goal in mind, help every learner to appreciate the process and not just the result
Qualified and Passionate Instructors: Our experienced instructors are passionate about coding education and will guide participants in every step of the program.
Hybrid Learning: Enjoy the flexibility of both online and offline learning options to accommodate various schedules and preferences.
Cutting-Edge Resources: Access top-notch coding tools and materials that facilitate a dynamic and engaging learning experience.
Standard Facilities: Benefit from our well-equipped training venues, ensuring a conducive learning environment.
Exclusive Prizes:
Showcase your skills and compete for exciting prizes, including branded school bags, writing materials, and many more including scholarship.
Duration: The program runs for three (3) weeks
Days and Time: Monday to Friday, 10:AM to 2:PM.
Program Location: Ikeja Allen, Lagos, Port Harcourt and Onitsha Anambra.
Qualification: No age limit! The program welcomes all individuals aged 4 and above with an interest in technology, coding, robotics, web development, and UI/UX design.
Registration Process:
Simply fill the registration form below to secure your spot now and embark on a coding journey like no other!
Are you seeking for a scholarship opportunity for your child? We're offering 10 scholarships per location, with a chance to win 50% or 30% off the training cost. Register and join Edubridge SOC program and showcase your coding skills to earn this prestigious scholarship opportunity.
How to Win Program Scholarship
Create a 1 minute video application for scholarship and share it Facebook, Instagram or Twitter
What should be the content of the video for scholarship?
Introduce yourself and talk about Why you want to attend the Edubridge summer of code,
Why you would love to win a scholarship, Ask people to like and share this video to help increase your chance of selection for the scholarship. Mention and use the hashtag for your post #edubridgesoc #edubridgesummerofcode
Enroll Now and Ignite Your Child Coding Potential!
EDUBRIDGE SOC REGISTRATION FEE WAS: ₦50,000 NOW: ₦30,000.

Schools That Trust Our Works
Don't let your child miss this chance to be part of Edubridge's 2023 groundbreaking Summer of Code training program. Where they will gain valuable coding Tech skills, meet like-minded individuals, and have a memorable summer filled with coding adventures. Register today and secure your kids spot for a rewarding journey into the world of coding and technology.
FREQUENTLY ASKED QUESTIONS

I saw your advert on summer coding school, can you tell me more
Our yearly summer coding class is an avenue for your child to learn coding with Python, Robotics , Artificial Intelligence, creating interactive electronic projects like building a drone, among other things. Additionally, kids develop problem-solving and creative-thinking abilities that will be useful when they return to school and even in life
Who can attend the program
What is the cost of the summer coding school?
Is that a stipulated price or can we bargain
How do I qualify for the scholarship
What should be the content of the video for scholarship
Why is it that expensive, I have seen others that do not chargers much for the same program
What time is the event and where is the venue
Do you have a provision for transport?
I'm sorry I forgot to indicate interest in the transport arrangement, does that mean I missed out on that?
Do you have a provision for virtual classes or we all have to be there physically
Will the virtual classes be as effective as the physical classes
How much will the kit cost?
what if I am interested but I cannot afford it at the moment
So now after payment what next
Uk-used lenovo 500e Chromebook GEN 3 (11' Intel) 2 in 1 laptop available4WD Bluetooth Multi-functional DIY Smart Car For Arduino Robot Education UNO R3 Starter Kit availableHP EliteBook Folio 1040 G3 14 Core i7-6600U 2.6GHz, 8GB, 512GB Solid State Drive, Windows 10 Pro 64Bit available